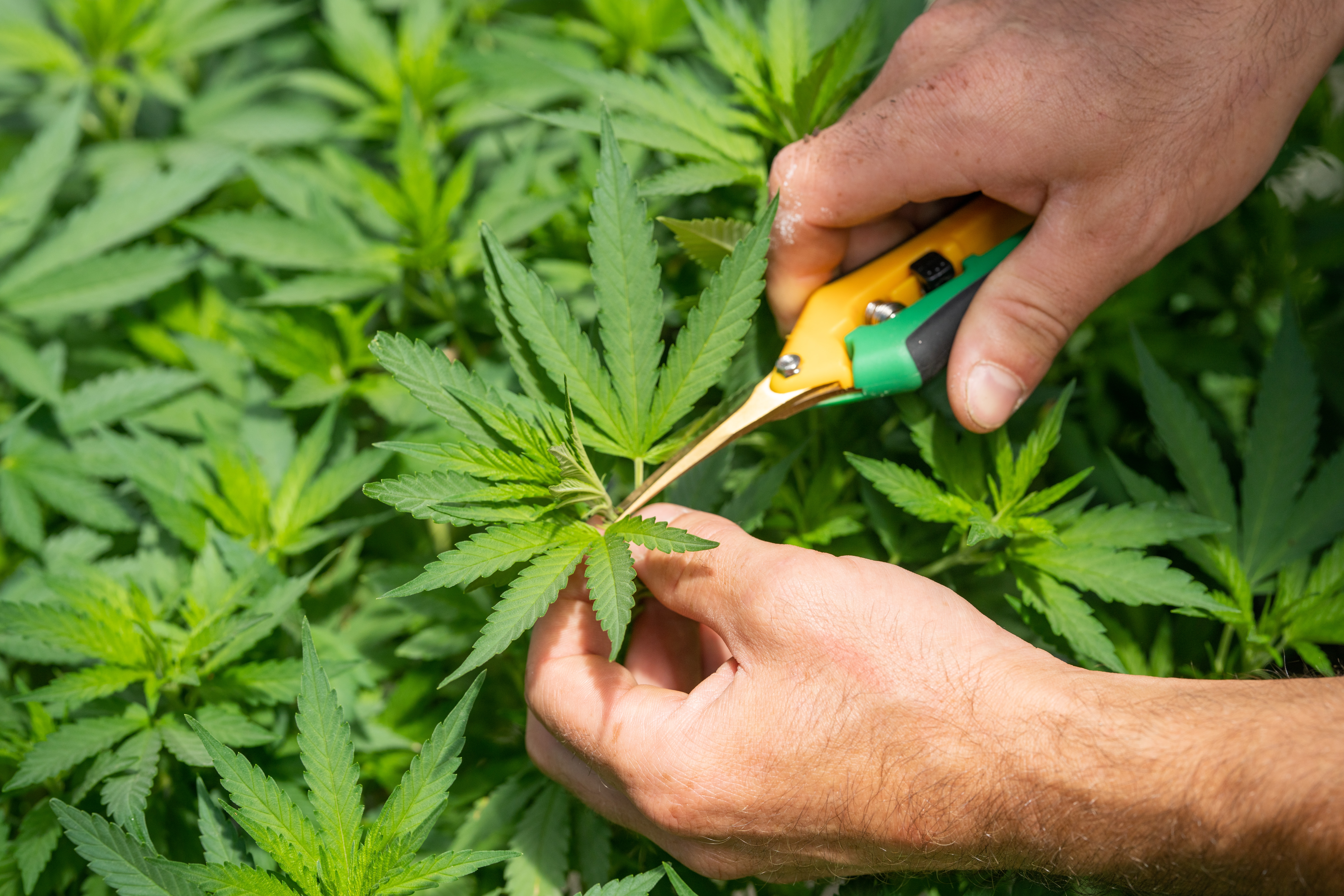 The production of hemp-derived products containing less than 0.30% tetrahydrocannabinol (THC) is legal under the 2018 United States Farm Bill(1)

. THC is the compound responsible for causing psychoactive effects.

In the State of Hawaii, hemp-derived products have been legal since 2018. However, the state government only approved hemp farming in 2020(2)

.
Is
CBD Oil Legal
in
Hawaii
?
Cannabidiol (CBD) is a phytocannabinoid, a compound found in cannabis plants (industrial hemp and marijuana). These plants classify as Cannabis sativa, a flowering plant known for its cannabinoid contents.
The 2018 United States Farm Bill has legalized industrial hemp farming and production. The hemp strains must contain less than 0.30% tetrahydrocannabinol (THC) in dry weight(4).
The bill has amended federal laws. The Controlled Substances Act does not cover hemp-derived CBD products containing less than 0.30% THC(5).
Hawaii CBD Laws
Since 2018, retailers have been legally selling hemp-derived products in Hawaii. Hemp-derived CBD products are now available for selling and shipping into the state.
Furthermore, the state has allowed the growth of hemp beginning in August 2020 through the US Department of Agriculture (USDA) Domestic Hemp Production Program(6).
Although federal law allows the sale of hemp-derived products, the US Food and Drug Administration (FDA) controls how CBD companies may market their products.
The FDA currently prohibits CBD products from being sold as a dietary supplement or a pharmaceutical drug(7).
The Hawaii Department of Health has aligned with FDA regulations on how retailers may market their CBD products in Hawaii(8).
According to the Hawaii Department of Health, CBD brands must not make any health claims. Thus, many CBD brands have disclaimers on their labels and on their official websites to avoid penalties.
Hawaiian state laws also prohibit adding CBD as an ingredient to food, beverages, and cosmetics manufactured within the state.
Hemp Farming Requirements
Hemp farming in Hawaii is legal under the United States Department of Agriculture (USDA) Domestic Hemp Production Program(9).
The regulation mandates that hemp farms may operate in the state's agricultural districts. In Hawaii, hemp farming licensees must get renewed every two years.
Regulations prohibit hemp from being grown within 500 feet of pre-existing areas composed of residences, schools, playgrounds, and childcare facilities.
Aspiring hemp growers may send their applications to the USDA. The process requires applicants to submit a Federal Bureau of Investigation criminal history report.
According to the State of Hawaii Department of Agriculture, individuals convicted of a felony involving controlled substances in the last ten years are not eligible for a hemp farming license(10).
Testing Requirements
Currently, there are no existing laws that require the testing of CBD products.
However, the Hawaii Department of Agriculture (HDOA) regulates the testing of hemp plants before harvest. There are three state-accredited testing laboratories in Hawaii under the industrial hemp pilot program(11).
Since these labs are in Honolulu, Oahu, the applicants with farms in other regions shall be responsible for acquiring and paying for the laboratories' services.
Industrial hemp is grown from cultivars approved by the United States Department of Agriculture (USDA)(12). Depending on the grower's farming practices, the seeds may be sown directly into the soil or pots for germination.
Upon maturity of the plants, the growers need to acquire a laboratory testing service before harvest. The state-approved laboratory tests for the plant's THC concentration, which must not exceed 0.30%
After testing, the plants are harvested and sent to manufacturing plants for extraction. Several modalities, such as decarboxylation, cold-pressing, carbon dioxide (CO2), or solvent, can extract the hemp flowers and stalk.
Once extracted, developers process the cannabinoids into different CBD products, such as tinctures, vapes, gummies, and topicals.
CBD brands are not required to send their samples to third-party laboratories for testing.
However, testing is a common practice in the CBD industry. Legitimate CBD brands regularly send batch samples to third-party laboratories. They then share the lab results (certificate of analysis or COA) with consumers.
Buying CBD Legally
The US Hemp Authority is an accrediting organization that ensures CBD products are safe and high-quality. When brands earn the US Hemp authority stamp, the authority has tested, audited, and ensured that the brand created the products using ethical practices(13).
Any hemp-derived CBD oil, including full-spectrum CBD, cannot be sold in Hawaii without a valid prescription(14).
Full-spectrum CBD oil contains all the cannabinoids found in hemp plants, including 0.30% THC. Consuming all the cannabinoids at once provides the "entourage effect."
The entourage effect implies that the benefits are great when cannabinoids are consumed together, rather than individually.
Individuals registered with the medical cannabis registry program may opt for common strains containing CBD and THC.
For example, Charlotte's Web is a high CBD, low THC cannabis strain. The cannabis strain reportedly reduced convulsions caused by Dravet syndrome. This condition is a form of rare child epilepsy(15).
Another high-CBD strain derived from Cannabis sativa is Harlequin. The average THC content in Harlequin is approximately 5%(16).
Meanwhile, reports stated that medical and recreational marijuana contains 17% to 28% THC in some licensed dispensaries in the US(17).
Hawaii prohibits the recreational use of cannabis. However, state law allows the use of medical marijuana(18).
Individuals with qualifying medical conditions may apply for a medical marijuana card through the Medical Cannabis Registry Program.
Choosing Which CBD Products to Buy
Since the CBD industry is unregulated, customers must practice caution when they buy CBD oil. Extensive research is essential in knowing which brands are safe for consumption.
Customers may consider product qualities, such as organic, non-GMO, vegan, or gluten-free.
Before purchasing a CBD brand, consumers must also conduct a brief search about the company, its laboratory testing practices, business practices, product reviews, and customer feedback.
Individuals may research the company's Better Business Bureau (BBB) rating status.
The bureau grades companies in the United States based on product quality and customer service. Moreover, customers and employees alike may send their feedback regarding the company(19).
Buyers must always look for the updated COA of the product. The COA ensures that products are safe and do not contain harmful chemicals, such as heavy metals and pesticides.
Where to Buy CBD Products Legally
The best CBD products are available in licensed dispensaries, nutrition shops, and wellness shops in Hawaii. Most of these stores are in Oahu.
However, other locations, such as Maui, Kauai, and the Island of Hawaii (the big island), have shops that sell CBD products.
Individuals may also buy the products directly from the official websites of the brands or online retailers.
Reading CBD Labels and Packaging
When buying a CBD product, individuals must consider the type of CBD oil they want. Full-spectrum CBD oil means the product contains all the compounds found in industrial hemp, including 0.30% or less THC.
Meanwhile, broad-spectrum CBD oil contains all the cannabinoids except for THC. This product is preferred by individuals who do not want to consume THC for work and lifestyle reasons.
Individuals who want to take pure CBD may opt for CBD isolate. CBD isolates often come in a powder form. CBD users may add the powder to oils for easy consumption.
After establishing the CBD oil type, the buyer must consider the dosage. Most CBD oil brands specify their cannabinoid content in milligrams per serving. Individuals may opt for concentrations that fit their desired dosage.
Here are other essential things to look for on the label:
Batch numbers – Legitimate CBD brands have batch numbers on the label or packaging. These batch numbers enable customers to hold CBD brands accountable upon noticing or discovering harmful substances in the concentration.
Manufacturing and expiry date – Like any product, individuals must always check the CBD oil's viability.

Third-party laboratory report – Some brands

print quick response (QR) codes on product labels for easy access to laboratory reports.
Understanding CBD
Cannabidiol (CBD) oil has shown promise in offering potential anti-anxiety(20), anticonvulsant(21), and anti-inflammatory properties(22).
Industrial hemp and marijuana are classifications of Cannabis sativa. Marijuana products may also come from Cannabis indica.
Health Benefits of CBD
Scientists have been studying CBD for its potential therapeutic properties.
Studies have found cannabidiol to provide anticonvulsant effects. The FDA-approved anti-epileptic drug, Epidiolex, may help reduce the convulsions of children who have rare epilepsy, such as Dravet syndrome and Lennox-Gastaut syndrome(23).
A 2019 study demonstrated that CBD might help reduce anxiety symptoms and improve individuals' sleep quality with insomnia(24).
A review from Neurotherapeutics has also studied CBD's anxiolytic effects. The authors mentioned that CBD might reduce symptoms of anxiety-related disorders, such as obsessive-compulsive disorder, post-traumatic stress disorder, and panic disorder(25).
Moreover, the Therapeutic and Clinical Risk Management shared a study that highlighted cannabinoids, including CBD, for their potential analgesic and anti-inflammatory properties(26).
The researcher added that cannabinoids might trigger receptors in the endocannabinoid system (ECS), thereby influencing the body's internal processes.
The ECS contains G-protein coupled receptors, called CB1 and CB2. These receptors may influence the central nervous system, immune system, and digestive system(27).
Conclusion
The 2018 United States Farm Bill covers CBD products developed from industrial hemp. This bill enables individuals residing in Hawaii to purchase CBD without special permission from the state government.
The CBD industry remains highly unregulated. Thus, individuals must practice caution when looking for high-quality CBD oil in retail and online stores.
Despite several studies attributing CBD for its potential benefits, more research needs to verify CBD's clinical value in various medical conditions. Individuals must consult with their physicians before including CBD in their regimen.
For more information on CBD's legality in all 50 US states, click here.
*The information shared in this article was based on findings retrieved on October 30, 2020. The legal status and regulations for CBD may change without notice.
---
The US Food and Drug Administration. Hemp Production and the 2018 Farm Bill. Retrieved from https://www.fda.gov/news-events/congressional-testimony/hemp-production-and-2018-farm-bill-07252019
The US Food and Drug Administration. Hemp Production and the 2018 Farm Bill. Op cit
Questions And Answers About Cannabis-Derived Products, Including CBD. State of Hawaii, Department of Health – Food and Drug Branch. Retrieved from https://health.hawaii.gov/food-drug/cbd-questions-and-answers/

Drug Enforcement Agency. Implementation of the Agriculture Act of 2018. Retrieved from

https://www.deadiversion.usdoj.gov/fed_regs/rules/2020/fr0821.htm

Hawaii Department of Agriculture. Hemp FAQs. Op cit
FDA Regulation of Cannabis and Cannabis-Derived Products, Including Cannabidiol (CBD). U.S. Food & Drug Association. 2020 Oct 1. Retrieved from https://www.fda.gov/news-events/public-health-focus/fda-regulation-cannabis-and-cannabis-derived-products-including-cannabidiol-cbd
Hawaii Department of Health. Food and Drug Branch. CBD Information. Retrieved from https://health.hawaii.gov/food-drug/cbd-information/
Hawaii Department of Agriculture. Hemp Cultivation. Retrieved from https://hdoa.hawaii.gov/hemp/hemp-faqs/#:~:text=HEMP%20CULTIVATION%20IN%20HAWAII,USDA)%20Domestic%20Hemp%20Production%20Program.&text=Hemp%20shall%20not%20be%20grown%20in%20any%20house%2C%20dwelling%20unit,apartment%2C%20or%20other%20residential%20structure.

Ibid

Hawaii Department of Health. Hemp: General Information. Retrieved from https://hdoa.hawaii.gov/hemp/hemp-general-information/
Establishment of a Domestic Hemp Production Program. Retrieved from https://www.federalregister.gov/documents/2019/10/31/2019-23749/establishment-of-a-domestic-hemp-production-program
US Hemp Authority. Retrieved from

https://ushempauthority.org/

Questions And Answers About Cannabis-Derived Products, Including CBD. State of Hawaii, Department of Health – Food and Drug Branch. Op cit
Maa, E., & Figi, P. (2014). The case for medical marijuana in epilepsy. Epilepsia, 55(6), 783–786.

https://doi.org/10.1111/epi.12610

JOUR, S. Elzinga., J. Fischedick., R. Podkolinski., J. Raber., PY – 2015/07/20 (July 2015) Natural Products Chemistry & Research 3(4). DOI: 10.4172/2329-6836.1000181. Retrieved from

https://www.longdom.org/open-access/cannabinoids-and-terpenes-as-chemotaxonomic-markers-in-cannabis-2329-6836-1000181.pdf
Stuyt E. (2018). The Problem with the Current High Potency THC Marijuana from the Perspective of an Addiction Psychiatrist. Missouri medicine, 115(6), 482–486.
Hawaii Department of Health. Medical Cannabis Program. Retrieved from

https://health.hawaii.gov/medicalcannabis/

The Better Business Bureau. Retrieved from

https://www.bbb.org/

Shannon, S., Lewis, N., Lee, H., & Hughes, S. (2019). Cannabidiol in Anxiety and Sleep: A Large Case Series. The Permanente Journal, 23, 18–041.

https://doi.org/10.7812/TPP/18-041

The US Food and Drug Administration. FDA Approves First Drug Comprised of Active Ingredient from Cannabis. Retrieved from https://www.fda.gov/news-events/press-announcements/fda-approves-first-drug-comprised-active-ingredient-derived-marijuana-treat-rare-severe-forms

Russo E. B. (2008). Cannabinoids in the management of difficult to treat pain. Therapeutics and clinical risk management, 4(1), 245–259.

https://doi.org/10.2147/tcrm.s1928

The US Food and Drug Administration. FDA Approves First Drug Comprised of Active Ingredient from Cannabis. Op cit

Shannon, S., Lewis, N., Lee, H., & Hughes, S. (2019). Op cit.

Blessing, E. M., Steenkamp, M. M., Manzanares, J., & Marmar, C. R. (2015). Cannabidiol as a Potential Treatment for Anxiety Disorders. Neurotherapeutics: the journal of the American Society for Experimental NeuroTherapeutics, 12(4), 825–836.

https://doi.org/10.1007/s13311-015-0387-1

Russo E. B. (2008). Op cit.

Pacher, P., Bátkai, S., & Kunos, G. (2006). The endocannabinoid system as an emerging target of pharmacotherapy. Pharmacological Reviews, 58(3), 389–462.

https://doi.org/10.1124/pr.58.3.2
CBD Clinicals is reader-supported. When you buy through links on our site, we may earn an affiliate commission. Learn more