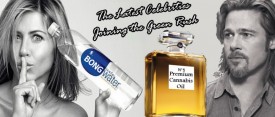 With so many world-class cannabis brands out there, how do we decipher which are the best; which ones stand out?
There's one method that celebrities have been doing: by attaching their names to certain products, investing, and endorsing cannabis products, big-name fame stars have certainly added more value to a range of products on the market. This isn't surprising, as cannabis is also becoming more commonplace, and legality only continues to sweep North America.
Celebrity cannabis endorsements are also a huge help for pushing cannabis legalization. Here are the latest celebrity cannabis ventures that you may want to give a try this 2020:
Gwyneth Paltrow
Iconic Hollywood actress, wellness guru, and Goop founder Gwyneth Paltrow just made an announcement that she will be investing in Cann, a cannabis-infused drinks company. Paltrow has touted the plant as a "hero ingredient of the future" when it comes to health and well-being. She adds that she is backing Cann's beverages which are infused with THC and CBD in small doses, making it an excellent alternative to booze.
"There's a whole sober-curious movement that's going on and the cannabis-curious movement that's going on, this is kind of at the intersection of those things in a way," she says. Though the financial details of the deal weren't disclosed, Cann isn't the first business she has invested in.
"We're very clearly and definitively moving in the direction of cannabis being legalized, and I think it should be," she says. "I'm actually not a big personal user of it. But I do think that there are amazing medicinal qualities to it and it is really helpful for a lot of people."
According to Cann founders Luke Anderson and Jake Bullok, Cann's small-dosed cannabis drinks encourages consumers to drink more without having to worry about getting intoxicated. "When people think of Gwyneth Paltrow, they don't think of weed – they think of cutting-edge solutions for today's health and wellness needs," Anderson says. "Her endorsement is a sign that Cann (and microdose beverages more broadly) are a viable answer to that very common consumer pain point."
Cann beverages are available in both dispensary and delivery services in the states of Nevada and California. They also just raised $5 million in funds last January, and intend to expand to four more states within the next few months.
"It's going to be all about how people brand it and connect with the customer and what the aesthetic is," Paltrow says, about cannabis becoming more mainstream.
Jay Z
Music mogul and entrepreneur Jay Z just launched Monogram, an exclusive line of cannabis products in partnership with canna company Caliva, that we're yet to find out more about. The website is full of teasers including stunning cannabis photos though it doesn't talk about its release date, instead urging interested customers to enter their email to be notified of the drop.
Along with the announcement, Jay Z also released a playlist called: Monogram: Sounds From The Grow Room, featuring artists such as Bob Marley, Rihanna and The Beatles. "Monogram marks a new chapter in cannabis defined by dignity, care and consistency," reads the website. "It is a collective effort to bring you the best, and a humble pursuit to discover what the best truly means."
Jay Z has been with Caliva since 2019 as chief brand strategist, though Monogram is his first product venture with the brand. "We think this is a sea of change in terms of the visibility to the industry," says Caliva CEO Dennis O'Malley, to CNN Business. "We take this partnership with a lot of responsibility, a lot of humility, a lot of accountability moving forward."
Shawn Kemp
Former NBA basketball star Shawn Kemp just opened the first-ever black-owned dispensary in Seattle, Washington. Kemp played for the Seattle Supersonics from his 1989 draft all the way to 1997, and during his basketball career, he was part of the prestigious All-NBA selection three times, and also boasts of being a 6-time NBA All-Star.
The dispensary, named Shawn Kemp's Cannabis, is almost 4,000 square feet large and located near the iconic Space Needle and Climate Pledge Arena. Kemp has said he envisions his company "will be an inspiration for people to get involved with the legal cannabis industry, especially people of color."
"My name is on this company and I have worked hard to bring Shawn Kemp's Cannabis to fruition. I want to provide nothing short of the best selection, customer experience and prices in Seattle. I have incredible partners in Matt Schoenlein and Ramsey Hamide to make sure we deliver on that promise to our customers, who are our top priority," he says in a statement. His partners Schoenlein and Hamide co-founded Main Street Marijuana, encompassing three dispensaries that have amassed over $150 million in sales since their inception in 2014.
Method Man
Wu Tang Clan's Method Man launched a cannabis brand called Tical Official just last June. His approach to cannabusinesses is different from other celebrities in that it's a socially conscious line, launching at a time in the year when police brutalities and racial injustice were making headlines across the globe. Tical Official will only be sold at "black owned and socially conscious dispensaries."
TICAL is an acronym for "Taking All Lives Into Consideration"; it also happens to be the name of his first ever solo album which debuted in 1994.
"Personally, it is essential that we use our brand to help bring awareness to the social, systemic and economic injustice in communities that have struggled with oppressive mass incarceration and racially biased policing policies," Method Man said in a statement. Tical partnered with a grow house and will be focusing on minority and family-owned businesses, selling high-quality cannabis strains, explains his partner and co-owner Bryan Zabinski.
Among the strains they are selling include Gelato, Cake, OG, and Punch.
Method Man was able to raise $300,000 to start the business, and he's hoping to get $3 million more in his succeeding funding rounds.
CELEBRITIES IN WEED, READ MORE…
8 CELEBRITES GOING ALL IN ON WEED, WHO IS ENDORSING WHAT?
OR..
10 FAMOUS PEOPLE SUPPORTING CANNABIS LEGALIZATION!